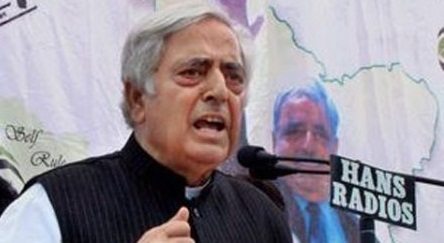 With the results of the recently held assembly elections in J&K throwing up a fractured mandate, it has become a difficult scenario for both the PDP and the BJP, two political parties with highest number of seats. PDP has won 28 seats in 87 seat assembly while BJP has won 25 seats. This means that neither of them can hope to make the next government without the support of either each other or other parties with sizeable number of seats. Both parties are keeping their cards close to their chest and exploring their options.
Both parties are weighing their options
While BJP flirted for a while with Omar Abdullah to explore the possibility of an alliance with NC in its exercise, PDP always has the option of going along with Congress to form the next government. But Congress has just 12 seats in its bag and even if PDP were to muster the spport of a few independents, the alliance would barely scrape past the majority mark, placing a question mark over the stability of such an arrangement. On the other hand, going along with BJP means the new PDP BJP alliance would have close to 60 seats in the assembly. This would be a very comfortable majority ensuring a very strong and stable government.
PDP is demanding CM's post for Mufti Mohammad Sayeed for full term
However, both PDP and BJP waited for the other to make the first move. While BJP has made clear its desire to have a Hindu CM for the state, PDP is insisting on having the post of CM for its chief Mufti Mohammad Sayeed for the full 6 year term. Senior BJP leader Ram Madhav met with PDP leaders in Jammu and Srinagar today but the talks have hit a roadblock in preliminary stage as PFP is unrelenting on its demand for the post of CM for full term.
PDP also wants a common minimum program in place before any alliance
There were 2 rounds of talks between Muzaffar Baig of PDP and Ram Madhav of BJP. Another contentious issue that stalled the talks was insistence of PDP on a common minimum program before any alliance can be struck between the two parties. There are voices of dissent rising with PDP with some leaders against going with BJP to form the government in the state. Senior leader Salman Soz said that alliance should always be between likeminded parties. Any attempt to forge an alliance between parties that are ideological apart could prove suicidal as it is like trying to mix oil and water.
Many in PDP find it easier to coexist with Congress
There are many within PDP who feel that going along with Congress is not only easier but also comfortable. On the other hand, an alliance with BJP could be detrimental to the prospects of PDP that has won most of its seats in the valley region where anti BJP sentiments run high. BJP feels that it has the popular mandate of the people as it has won the highest percentage of votes despite contesting on just 76 of the 87 seats. In reality BJP has won all its seats in Jammu while it has drawn a blank in the valley and Laddakh regions. But so is the case with even PDOP that has not won in Jammu region. In fact, it would be wonderful for the two parties to come together and make a government with BJP representing the people of Jammu wile PDP representing the people of the valley.
PDP is insisting on high level talks between Mufti Mohammad Sayeed and Prime Minister Modi to iron out the wrinkles. BJP understands that it does not have hard bargaining power to force PDP to all its terms. In that case, PDP could go ahead and form the government accepting support from Congress. This is why BJP is willing to discuss all issues to remove the obstacles and form the next government in the state.
After all, politics is the art of the impossible.
About Sanjay Tandon
Sanjay Tandon is a graduate engineer from IIT Varanasi. He has been writing as a freelancer for many years. He loves to write on various niches. He is passionate about politics and economy and spends his free time watching news channels. He is also an expert on relationships.